Members
Eli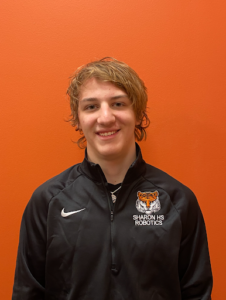 This is my third  year on the FTC team. I was on the FLL team for 5 years. I like robotics because it allows me to test my creativity as well as my math and science skills.  I am involved in an FRC team, wrestling, and tennis. In my future I plan on going to college to study genetics.
Alex
This is my third  year on the FTC team, and I am excited to be a part of the team. I was on the FLL team for 4 years. I am very interested in robotics and technology and I am considering a future with robotics. I like to be creative and engineering  and designing is a good way to express my ideas. After high school, I plan on going to college.
Ramsey
This is my third  year on the FTC team. I was in FLL for 5 years. Robotics has interested me since I was a young kid. It has shaped me as a person and I gained a lot of knowledge by being in the robotics program. I am also in FRC and Baseball.  I am planning to go to college and major in Engineering after high school.
Ben
This is my second year on the FTC team at Sharon High School. Currently I am a junior. I have 5.5 years worth of experience as an FLL student and 2 years as a FRC student. In addition, I play soccer for Sharon. From programming the robot to actually building it I have always had a passion for S.T.E.A.M. I am very excited to start this season, especially since it will open some new doors since it is a new experience from the previous years that I have been involved in with FIRST. After high school, I plan to go to college and earn a degree as a software developer. 
Kayden
I'm in my first year on the FTC  team. I was on FLL for 3 years where I got to go so many places to spark my interest in computer science and engineering. Outside of robotics, I am a part of the Sharon Marching Band as well as Jazz and Pep band. In the future, I would like to work in the cybersecurity field and learn more about robotics and different types of programming.
Kaytlen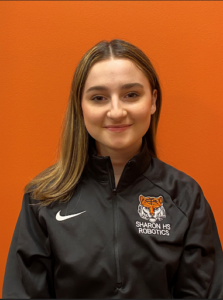 Chamber Orchestra. My experience as a member of the FLL robotics team has taught me so much, including skills I will take into the future and the workforce, and has led me to continue robotics into my high school career.
This is my first year on the FTC  team, and I was on FLL for 3 years where I lead in outreach and the innovation project. I am a member of flagline, I play on the volleyball team, and I perform with the Sharon Chamber Strings.
Keegan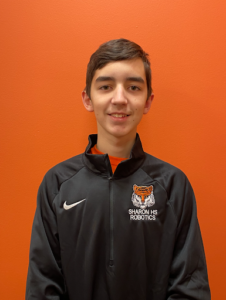 I'm in my first  year on the FTC  team. I was on FLL for 4 years where gained my interest in the field of robotics. I currently play tennis and have various other activities that I am involved in. In college, I plan on pursuing something in the robotics or engineering field or going into business. I have all of my interest in robotics due to being on the FLL team, around robots and surrounded with many great things, this is what sparked my interest because I got to experience so many great things in my years as a team member.
Coaches and Mentors
Coach Dave Tomko
Mr. Tomko is in his 12th year as a FIRST Coach and mentor.  He is the head robotics coach for the Sharon City School District coaching two FLL Challenge teams and the FTC team.  He also oversees the entire FLL Challenge program, the FLL Explore Program, and the FLL Discover Program in the district.  In addition, he has been a mentor on an FRC team for two years.  His main role for the Sharon High Robotics FTC Team is to oversee meetings and outreach, and is the mechanical lead mentor.  
Coach John Ackley
Mr. Ackley is the lead programming mentor for the Sharon High School Robotics Team. Mr. Ackley has worked with the team for several years since its inception.  He is a speaker, coach, system designer, and very long time software developer.
Mr. Ackley is host of the System Smarts podcast, featuring interviews with system designers from all industries. John speaks and gives workshops on system design, permaculture and entrepreneurship at events from coast to coast.
Mentor Kyle Wareham
Mentor Lucas D'Angelo